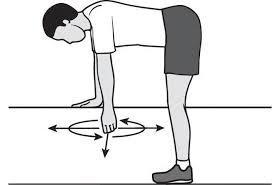 Recovering from a shoulder injury or shoulder surgery can be painful and take quite a while. One of the first exercises recommended to patients is the pendulum exercise. 
Start pendulum exercises with your affected/painful arm:
Lean over with your good arm supported on a table or chair.
Relax the arm on the painful side, letting it hang straight down.
Slowly begin to swing the relaxed arm by moving your body. Move it in a circle, then reverse the direction. Next, move the arm backward and forward. Finally, move it side to side.
Let gravity gently sway your arm. Do not actively lift or move it with your shoulder muscles.
Do the exercise 3 times a day, for 5 to 10 minutes each time, or as directed by your healthcare provider. Change the direction of your movement after 1 minute of motion.
The pendulum exercises help to increase range of motion, improve flexibility, decrease pain, and help to speed up your recovery. 
If you have any questions about this exercise, let us know. We're happy to help!